The Emily Lanier Jazz Ensemble

In this premium ensemble, Emily is backed by many of the Upper Valley's finest, most accomplished jazz musicians (key players being Michael Parker, Norm Wolfe and Peter Concilio). With its large repertoire of standards and incredible pool of talent, this group should not be missed. And because each week is a different mix, the music is always fresh and fun. To see who is playing with Emily and when, visit the "Up Comming Gigs" page.



Bass
Ed Seagrave
Eric Bronstein
Peter Concilio 
David Westphalen 

Drums
Dana Geno
Tim Gilmore
Bob Haubrich
Jim MacNutt

Flute
Michael Parker

Guitar 
Jud Franklin
Ed Eastridge
Jason Ennis
Josh Hall
Draa Hobbs
Billy Rosen
Norm Wolfe

Keyboards
Matt McCabe
Rob Gattie
Bob Merrill 
Norm Yanofsky

Saxophones 
Fred Haas
Michael Parker 
Nick Scalera
Michael Zsoldos

Trombone
David Westphalen
Eric Bronstein
(bass)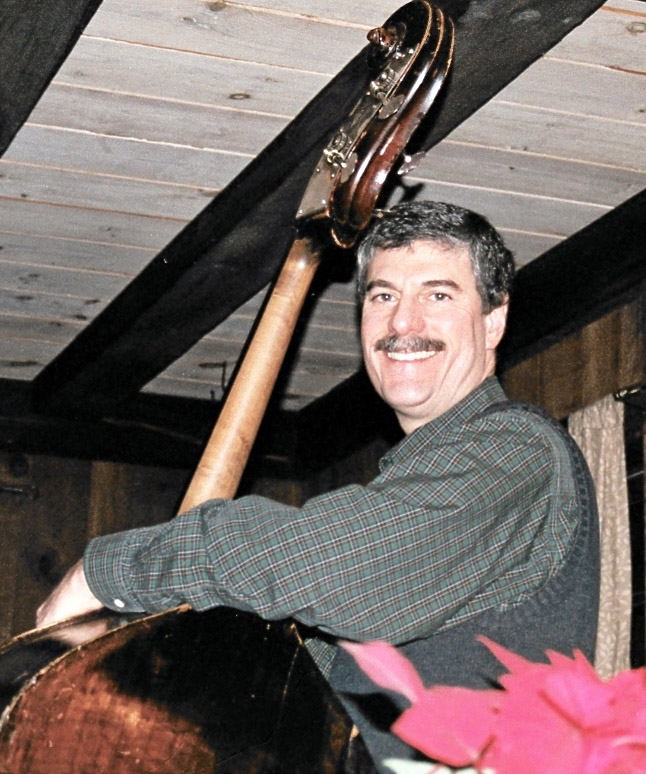 Eric Bronstein has joined a growing number of jazz bassists in the Upper Valley in recent years. Originally from Denver, Colorado, he has played several instruments since childhood, including piano, clarinet, and guitar. Jazz became his primary musical focus after high school. While attending the University of Chicago, he played clarinet in a traditional Dixieland ensemble, the Cook County Doo-Dah Boys. He began playing upright bass while attending medical school . Since meeting tenor saxophonist Fred Haas in the 1990's, he has attended the Interplay Jazz Camp annually under Fred's direction, at Endicott College, and in recent years in Woodstock, Vt. After Hurricane Katrina decimated the Gulf Coast in 2005, he founded the 7-piece Traditional jazz band, the Almost Legendary Thundering Muskrats, with Fred Haas, Michael Zsoldos, David Westphalen, Dave Ellis, Bob Merrill, and Kirby Nickels, to perform a fund raiser for Katrina victims. Since then, the Muskrats have performed for events such as the Jazz Weekends at the Woodstock Inn. He has performed with vocalist Chloe Brisson's jazz ensemble at the Vermont Event Center in Norwich, at First Night Celebrations as well as the Waterfront Festival in Burlington, VT, and with Upper Valley vocalists Emily Lanier , Sharen Conner, and Shyama. In addition to his music, he continues his practice as a Family Physician at Alice Peck Day Hospital in Lebanon, NH, where he has worked since 1990.
Peter Concilio
(bass)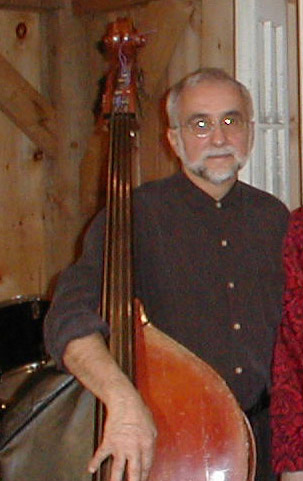 Peter Concilio began performing as bassist for The Cool Notes, an early rock group, with whom he recorded "Pete's Blues," for Drum Records, a song that has been memorialized on several collections of early rock music and which precedes "I got a Woman" recorded later by Ray Charles and Elvis Presely. Some years later, along with the young, brilliant accordion player, Sal Ferla, the dynamic drummer, Dane Hassan, fresh from the U.S. Army Band, and the celebrated jazz saxophonist and composer, Don DeFala, he formed The Intonations, which became a leading jazz/pop group in the tri state area. In 1999 Concilio received a Falk Foundation grant for bringing young musicians and noted jazz artists together in performance. He moved to Vermont in 2001. He currently teaches film and philosophy for the Graduate Institute of Connecticut and continues to produce notable Connecticut jazz concerts, which have included performances by Dizzy Gillespie and Maynard Ferguson. 
Jason Ennis
(guitar)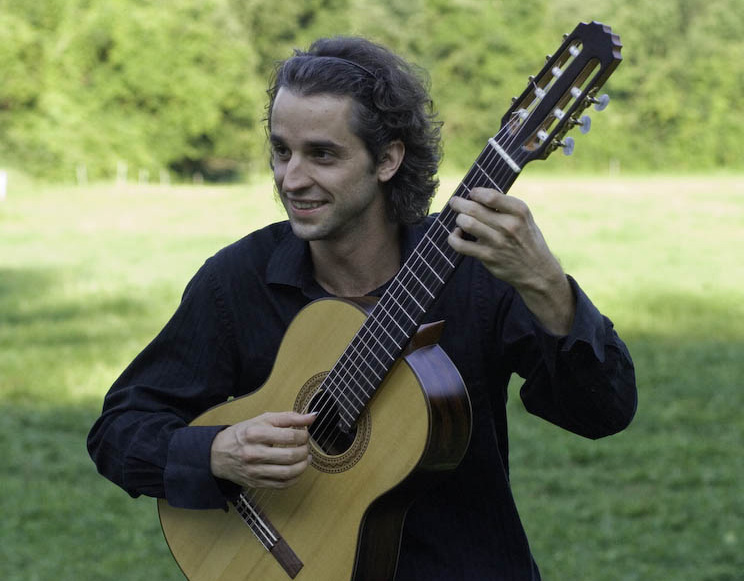 Guitarist Jason Ennis is based in Berkshire County, Massachusetts and performs Jazz, Brazilian and Classical music  throughout the Northeast of the United States. A graduate of Middlebury College (Vermont), Jason attended Berklee College of Music (Boston) and is currently pursuing a masters degree through the San Francisco Conservatory of Music, where he studies with renowned guitarist, David Tanenbaum. He has performed with Charles Neville (The Neville Brothers Band), The Sonya Kitchell Band (Velour Music), Joe Morton, Ramón Ángel-Rey, Los Mofos, Freddie Bryant (Fresh Sound), The Anna Borges Group, Fred Haas, and many others. His love of Brazilian music has led him to make several trips to Brazil, including a six month stay in Rio de Janeiro in 2006-2007 during which he played with some of the city's top young players. Jason is a member of the faculty of the Interplay Jazz Camp, an annual workshop which takes place in Woodstock, VT. For more information about Jason's work, please visit his website at www.jasonennis.com.
Bob Haubrich
(drums, etc.)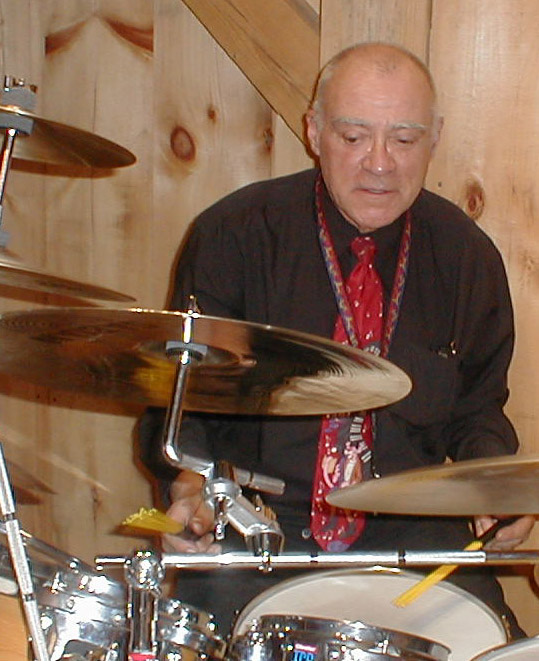 Bob has been playing jazz drums since undertaking formal study at an early age, and then professionally at the age of thirteen. His big break came at that tender age when offered the opportunity to work steadily with many of the best musicians in Western Connecticut, including guitarist Johnny Napp, saxman Seth Thomas, and vibist Clarence Fisher. Then it was off to Dartmouth, studying engineering and drumming with the Renegades, a 50's rock & roll revival band on the New England fraternity circuit. After graduate school and an MBA, life found him on the jazz and blues scenes in Chicagoland and points West, including Dixieland with the Salty Saints in Salt Lake City and the Ragtime Jazz Heritage in Coeur d'Alene, Idaho. To round it out, even a stint with Norman's Fishin' Tackle Choir, a hot rockin' electric bluegrass group tearing up the bars, honkey-tonks and ski lodges around Spokane Washington. Off to Alberta, Canada for his 9-5, and playing in various jazz and blues groups plus coaching the percussion students at Augustana College, University of Alberta. After twenty years as a management professor in Canada, Bob has recently retired to the family homestead in Claremont, NH, and linked up with the fine jazz players around the Upper Valley. Bob's musical philosophy is that drums are the spice in the jazz ensemble. "The drummer's role is to augment and enhance the flavor of the other players' chops. Always be within the texture of the music....never a sore thumb." Bob currently enjoys his day job as a Ski Instructor at Mount Sunapee.
Bob Merrill
(
keyboards)
Bob began playing piano when he was 5 years old, and has played bass and piano professionally for more than 30 years, spanning a spectrum of styles. He can often be found playing jazz at many of the different dining establishments in the Upper Valley, or playing private engagements with the Woodstock-based band, Swing Machine or the Burlington-based rock band, the High Rollers. He has been the composer/accompanist for Dartmouth Film Society's silent films since 1989, and in 1999 was presented with an award from Dartmouth for playing his fiftieth film. He has produced albums, jingles, and music for video and film. By day he is a composer, producer and audio engineer at his studio, Sweet Spot Digital. He grew up in Oregon, and now makes his home in South Pomfret, Vermont
Michael Parker
(saxophones & flute)

Born and raised in Westerly, Rhode Island, Michael Parker has been playing saxophone for over twenty years. He received a B.A. in Music Performance/Sound Recording Technology from Duquesne University in Pittsburgh, Pennsylvania. While in Pittsburgh, Mike gained experience 
as a free-lance jazz musician perfoming with many great artists such as Herbie Hancock, Mike Stern, Gary Burton, Dave Liebman, and Louie Bellson. He has also professionally played many different genres of music, including classical, jazz, R&B, rock, Top 40, polka, and wedding bands. Mike began teaching private music lessons for schools and music stores in the Pittsburgh area, and continued to do so when he returned to New England in 1998. He is currently on the faculty at the Upper Valley Music Center. Michael considers himself very fortunate to be able to do what he loves for a living, and is thankful for those who enable him to do so. 
David Westphaplen
(bass & trombone)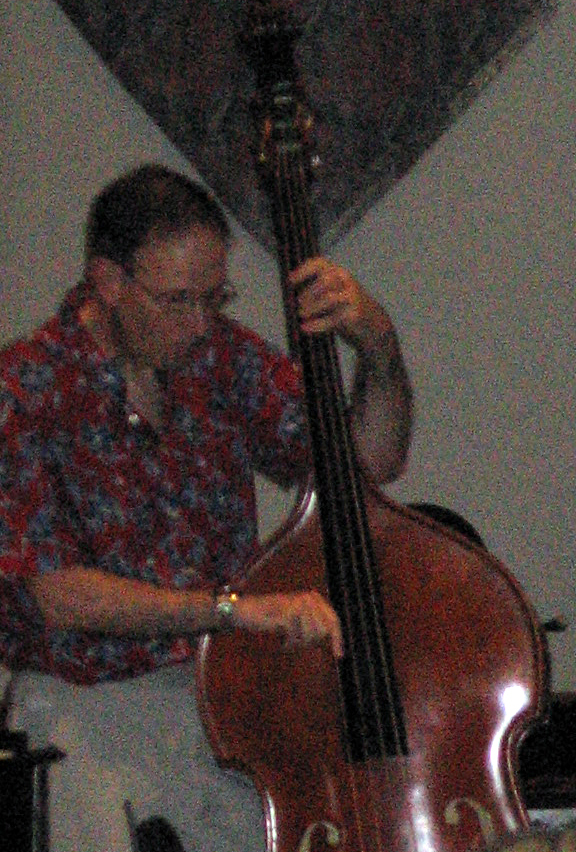 David Westphalen is a well-known bassist and bandleader in the Upper Valley region of Vermont and New Hampshire. After graduating from Tufts University with a music major, David taught high school music in Vermont for two years. He focused on trombone through high school and college, then added bass guitar to his arsenal in his mid-twenties, and ultimately returned to the string bass, the instrument he played in elementary school. For many years his band "Swing Machine" has been in demand for dances, Dartmouth College functions, weddings and other private events around northern New England. He also plays trombone with the Vermont Jazz Center Big Band based in Brattleboro, and the seven-piece traditional jazz band The Almost Legendary Thundering Muskrats.  He approaches each song and each performance with open ears and an open mind, collaborating with his fellow musicians to create a fresh and living work.

Norm Wolfe
(guitar)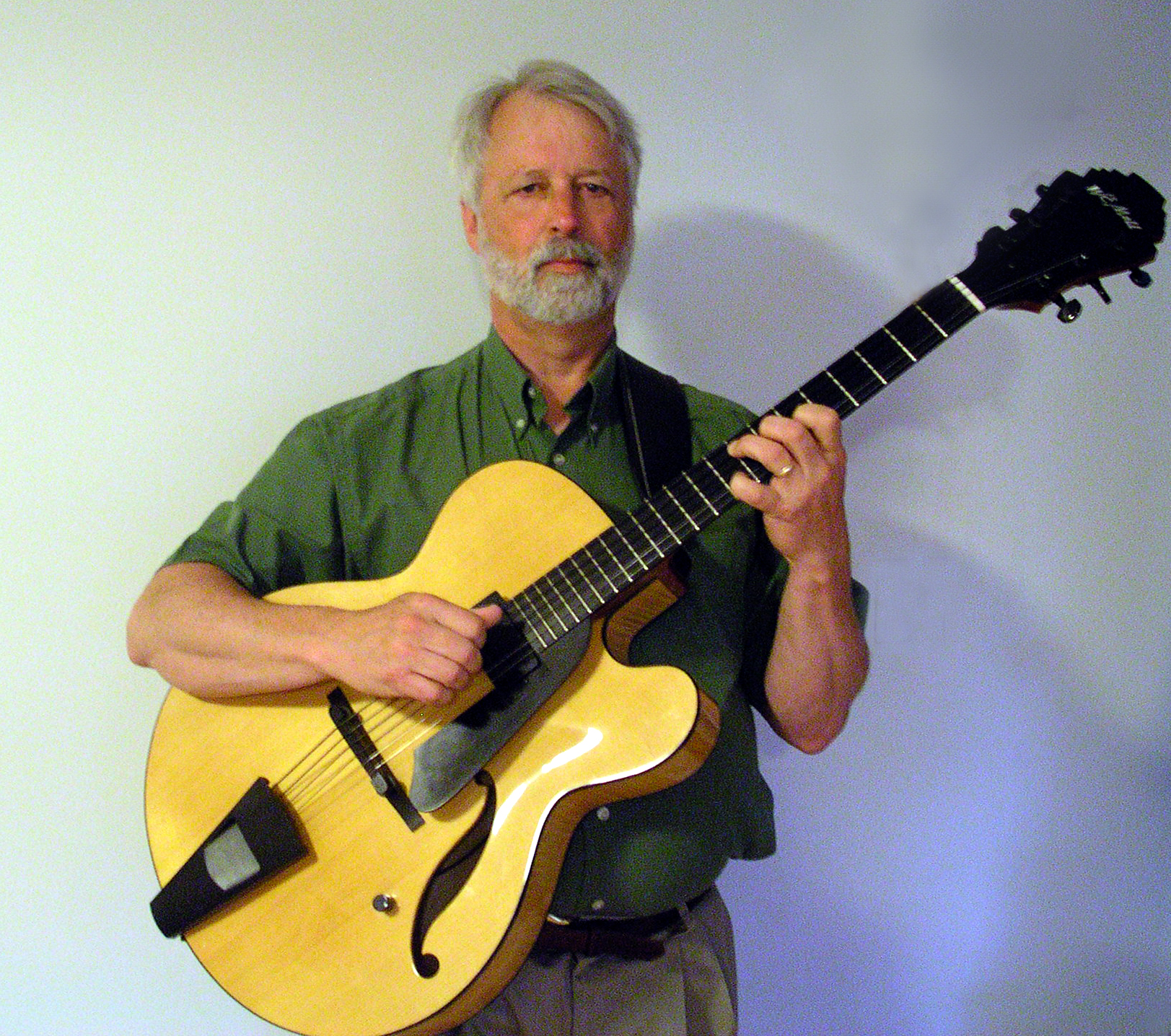 A native Vermonter, born and raised in Morrisville, VT, Norm Wolfe's guitar playing has graced the North Country for the past four decades. He has performed regularly at the Canoe Club in Hanover, and sits in on guitar as often as his schedule will allow with the acclaimed Vermont Jazz Ensemble. He previously held a trumpet chair with the group. His work as music director for the Hartford and Dresden School Districts has been widely praised by students and parents alike. He performed with major rock groups throughout Vermont before choosing jazz as his venue.